ELIS Villamartín follows the National Curriculum for England and Wales and offers its pupils IGCSE and A-Level examinations. The school is accredited by NABSS (National Association of British Schools in Spain), is recognised by the Spanish Ministry of Education and is an approved examining centre for Edexcel and AQA as well as being a Preparation Centre for Cambridge English Examinations and Trinity College Examinations.
Students whose mother tongue is not Spanish have the opportunity to sit exams to obtain the Diploma de Español como Lengua Extranjera (DELE), an official examination certified by the Instituto Cervantes and the Spanish Ministry of Education. ELIS Villamartín is an official examination centre for DELE exams.
Students graduate from the school with dual official qualifications: at the end of Secondary, the British IGCSEs and the Spanish 'Graduate in Compulsory Secondary Education' certificate; and the Spanish 'Baccalaureate' certificate and English A-Level certificates, at the end of their Sixth Form studies.
Message from the Interim Headteacher: Soledad Pina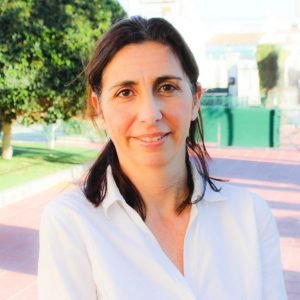 #WeAreELIS
As Interim Headteacher of El Limonar International School (ELIS), as a teacher and as a parent, I base my work on a single, fundamental belief: children can, and will receive many gifts in life, but the only one that will truly stay with them forever is a high-quality education.
At El Limonar International School, we clearly see that the education we provide for our students must, first and foremost, open as many doors as possible for their lives after school has finished. We know that education must be a holistic experience that focuses as much on the development of self-esteem, social skills, thoughtfulness and the ability to reason and evaluate, as it does on pure academic achievement.
El Limonar International School was founded in 1990 with the mission statement,
'We educate for democracy, equality, respect and dignity'.
Since that foundation, the school has adapted and grown to suit the needs of the Alicante and international communities which it serves, but the central philosophy has remained the same. Our educational programme is academically rigorous and produces outstanding results at all ages. At the same time the programme develops each pupil's sense of respect and dignity in order for every member of our community to achieve excellence within a framework which nurtures, challenges and promotes intellectual growth. Our aim is for all ELIS students to achieve more than they ever believed possible.
El Limonar International School is the original bilingual English school in our region. We know that a person's attainment of true bilingualism requires the learning of the second language from a very young age. When children are in the early stages of language development, they do not distinguish so readily between one language and another and are aware instead of the different sounds and meanings given by the person who is producing those sounds. At El Limonar International School our students have an exceptional command of the English language because they are exposed to it throughout the day from when they first arrive aged three. We do not teach English however, we teach in English; in the classroom, in the playground and in social and cultural activities that characterise our curriculum. This means that the ELIS educational offer is just as suitable for native English speakers who want a British curriculum education, or for international students looking to learn or improve their English, Spanish or additional languages. The very fact that our students master a second language at such a young age (be it English or Spanish as the second language, as should be the case in a truly bilingual school), it actually becomes misleading to label El Limonar International School as simply providing the best bilingual education in their areas: by the time of graduation, the language acquisition skills of our students mean that they are really trilingual, having achieved as high a level of fluency in a third global language as is available in any other school in the area.
Our exceptional staff, dual certification system and teaching strategies also result in unsurpassed university entry through A-Levels and 'Selectividad' results. Our students gain places to study at top public and private universities in Spain, in the UK and across Europe and the wider world.
The ELIS commitment to the highest quality education also drives the constant investment into new facilities and Digital Technologies with all students from year 3 upwards have direct access to a digital device. An ELIS Cognita Education provides exactly what is needed for our students to excel. Moreover, we aim to empower every student to want to excel.
At El Limonar International School there are no 'tricks', At ELIS Villamartin we pride ourselves on delivering what we say we will. We are not an average school in any respect. It is an exceptional one in so many ways. We are driven by a mission and philosophy of inclusion and inquiry that means our students relish the learning process they experience each day. An experience that opens the doors a child needs to take their place in the global markets and societies of the future